Most people could try and craft a candle of their own, but what makes Christopher Scents candles so special is the time, care and passion that goes in to making every single candle unique. Devised, poured and boxed in the beautiful rural village of Purleigh, Essex, we ensure that each handmade candle reaches the highest of standards.   
Candle making isn't just a craft, it is a science too, and a science where no shortcuts or quick fixes can occur. Each of our beautiful candles undergo extensive and rigorous testing before the chance to purchase; we individually test the cotton wicks, the fragrances, wax and containers! 
We spend weeks perfecting scent throw and burn time for each fragrance, ensuring that our high standards are met for each individual candle, it is a gift that we want each customer to experience.  
We heat the wax (to the right temperature), we add the fragrance just at the right time (make an error at this stage and the scent throw will be destroyed), we choose a wick from over 50 choices of wick (don't worry, our extensive testing means we know what fragrance compliments which wick) and then we pour the golden wax at the precise moment we need to.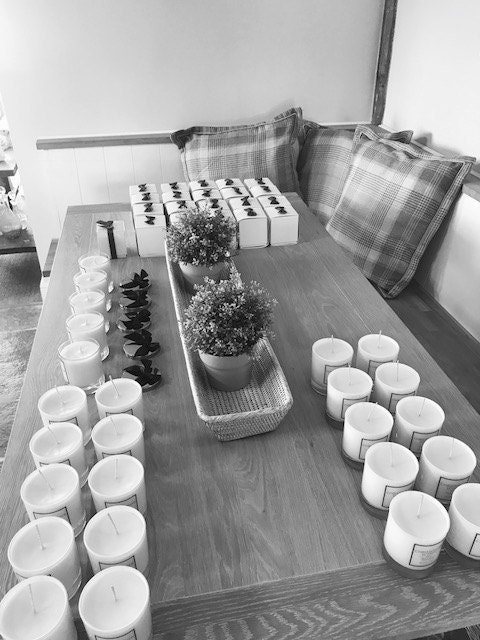 Once the candle has taken time to 'cure' (it takes up to 48 hours, but don't worry, we have lots of patience) we begin the exciting task of boxing up and adding the final, elegant and luxurious touches that make Christopher Scents candles unique.  
Ta-dah! We have a beautiful, handmade candle that has reached its final destination after weeks' of testing and quality control. Forget the mass-produced, machine-made candles in the supermarket or department store, treat yourself to a candle that has been personally crafted to ensure the maximum quality.